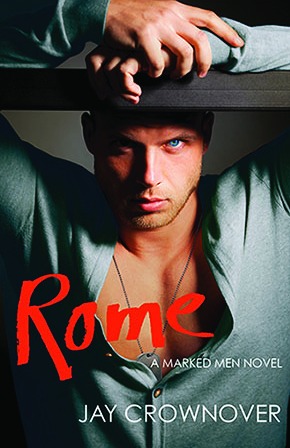 Rome
5 HEARTS
From Goodreads
Sometimes the wrong choice can be just right . . .
Fun and fearless, Cora Lewis knows how to keep her tattooed "bad boy" friends at the Marked in line. But beneath all that flash and sass is a broken heart. Cora won't let herself get burned again. She's waiting to fall in love with the perfect man—a baggage-free, drama-free guy ready for commitment. Then she meets Rome Archer.
Rome Archer is as far from perfect as a man can be. He's stubborn, rigid, and bossy. And he's returned from his final tour of duty more than a little broken. Rome's used to filling many roles: big brother, doting son, supersoldier—but none of those fit anymore. Now he's just a man trying to figure out what to do with the rest of his life while keeping the dark demons of war and loss at bay. He would have been glad to suffer through it alone, until Cora comes sweeping into his life and becomes a blinding flash of color in a sea of gray.Perfect may not be in the cards, but perfectly imperfect could just last forever . . .
First off I want to say normally I avoid books that have soldiers suffering from the after effects of combat. Most books use the clichés associated with PTSD but Jay Crownover didn't use them and it made the read seem real. Yes, Rome was suffering from it but he never put anyone in danger because he couldn't control himself. He tried to drown his sorrows with booze but having seen soldiers after losing their brothers in combat I know that is exactly what they do.
Rome tried to self-medicate with booze until Cora turned his world upside down. He didn't do a complete 180 at first. He slowly took steps to become a new man. Taking the steps to get help and make amends was hard for him but he knew if he didn't do it then he would lose her forever. Plus if he hurt Cora then chances are none of the rest of his "family" would forgive him. It wasn't perfect or easy but it made a wonderful story. I loved how he stepped up and became the man Cora needed him to be.
Cora is FIESTY. She doesn't take shit off of anyone, not even the hero Archer brother. She knew right away that he needed to pull his head out. Her reasoning was that he was hurting her family and being Captain No-Fun. Her own judgement wasn't perfect due to her ex-fiancée destroying her trust a few years back. It takes her quite some time to break down her own walls to let Rome in. She was even able to fix Rome's family after the secret about Remy coming to life. It was a very ballsy move but I loved it. I felt like Cora was the glue that held everyone together but somehow she couldn't fix herself until Rome came into her life.
I really loved the scene with Rome and Remy. It healed the parts of Rome, which Cora couldn't. I cried through half a dozen tissues at least. Getting to revisit the previous couples made me really happy. I love that in books. I can't wait to read Nash's story. I have a feeling I'm going to need more tissues.
Heat Rating 
4 out of 5