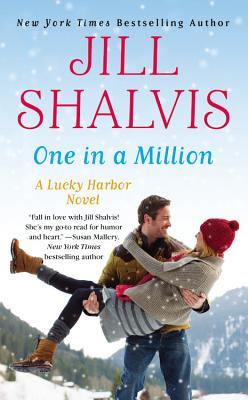 One In A Million
(Lucky Harbor #12)
by Jill Shalvis
As the brains behind wedding site TyingTheKnot.com, Callie sees it all: from the ring to the dress, the smiles . . . to the tears. It's that last part that keeps her single and not looking. Getting left at the altar will do that to a girl. But when Callie returns to her old hometown, she finds that her sweet high school crush is sexier than ever. And he makes it hard to remember why she's sworn off love . . .
Tanner is a deep-sea diver with a wild, adrenaline-junkie past—and now his teenage son is back in his life. How can Tanner be a role model when he's still paying for his own mistakes? It's hard enough that gorgeous Callie has appeared in town like a beautiful dream, challenging his best-laid plans to keep his heart on lockdown. Though there's something about being around her again that makes him feel like he can be the man she—and his son—deserve. Little Lucky Harbor holds their past; can it hold a beautiful new future?
One in a Million was so bittersweet for me. It's the 12th and final book of the Lucky Harbor series by Jill Shalvis. Although, this was not my favorite book of the series it was very good. Now, it's all over! My heart is breaking. Thank goodness for the Animal Magnetism series or I may very well lock myself in my room and never come out. Sorry, back to my review of One in a Million. This book was good for so many reasons – the secondary characters being one of them.
How awesome is this? Our heroine is none other than Lucille's grand-daughter Callie. Callie is a great character. She runs her own wedding planning site, yet she doesn't believe in love. This comes in handy when meeting Tanner. He's crashed and burned in his own love life, so the thought of a no-strings attached fling with Callie is the perfect arrangement for the both of them. Let's not forget that Lucille is on the case and no one stands a chance when she uses her matchmaking superpowers.
Poor Tanner has a ton on his plate and things just keep piling up. His angry teenage son has moved in and Tanner is trying to establish a relationship with him. How on earth he's supposed to do it he has no idea. After all, he had his own issues as a teen and made it out on the good side by sheer luck and willpower. But, he wants nothing more than to make up for lost time. Definitely not the time to start dating. Which is perfect since Callie is on the same page.
I liked Callie and Tanner. They had some really cute moments that made me smile and sigh. But, the secondary characters made this book. I am so going to miss this town and its wonderful and crazy characters. Ms. Shalvis I thank you for sharing the town of Lucky Harbor.
Thank you to NetGalley.com for the loan of this book in exchange for an honest review.
Hotness Rating 
RELATED REVIEWS
Click here for my review of Once In A Lifetime (Lucky Harbor #9)
Click here for my review of It's In His Kiss (Lucky Harbor #10)
Click here for my review of He's So Fine (Lucky Harbor #11)